20 Apr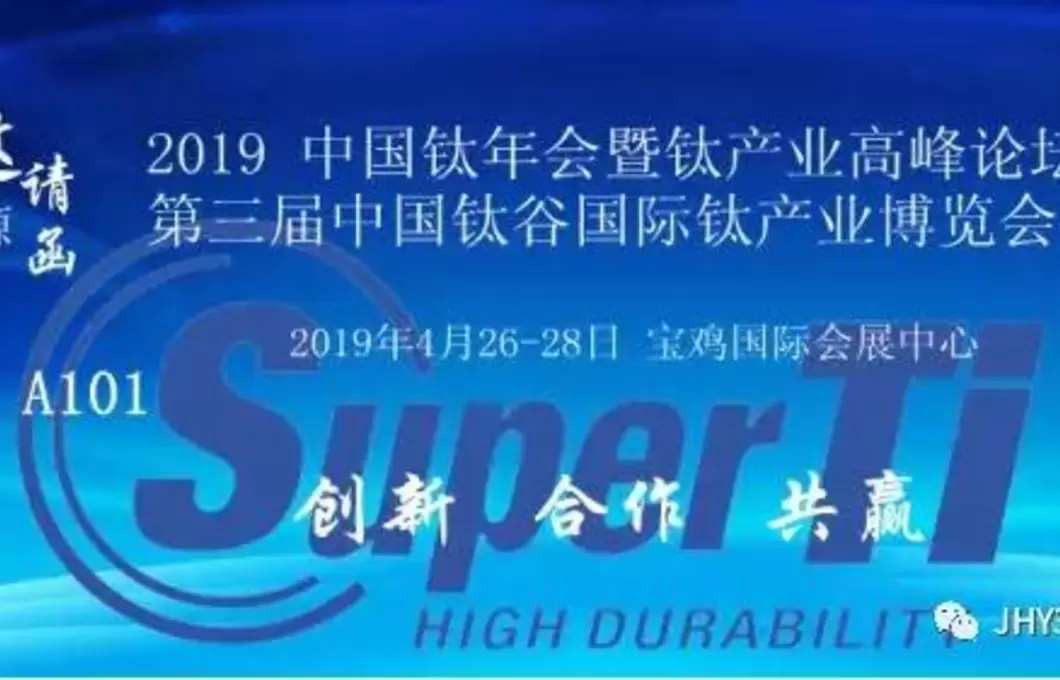 Posted By
0 Comment(s)
566 View(s)
News
Booth Number: A101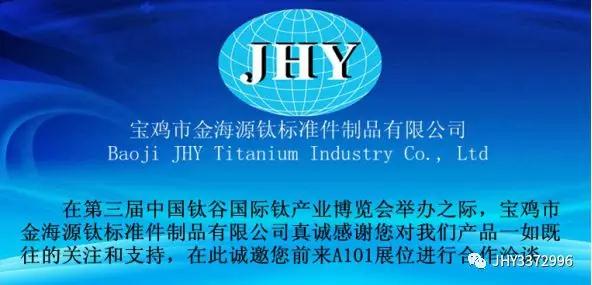 Our Company
Baoji JHY Titanium Industry Co., LTD, founded in 2002, is a professional high-tech enterprise of manufacturing, researching and developing, and selling titanium and titanium alloy fasteners. Our values are "Honesty and Loyalty, Criterion and Innovation". We has nearly 20 years of successful business operation experience, as well as excellent human resources, latest manufacturing equipment, and necessary product-quality testing techniques. We ensures our product quality by making all products traceable through rigorous product management.

"Serve for all, Fasten you and me." Our business mission is to make high quality fasteners. We produce GB, DIN, ASME/ANSI, ISO, UNI, JIS and other industrial standards titanium and titanium alloy fasteners, as well as non-standard titanium and titanium alloy fasteners. Our customers are widely distributed in East Asia, Southeast Asia, Western Europe, North America, Australia, and other regions. Our products are used in bicycles, motorcycles, automobiles, UAVs, yachts, sports, electronics, medical, petroleum metallurgy, chemical equipment, electroplating anode, water treatment, desalination, mariculture, nuclear power, and many other fields. Behind each of JHY's fasteners, there are our mature entrepreneurial management, professional R&D team, advanced manufacturing technology, and more importantly, our continuous pursuit of product quality and absolute passion to the fastener industry.
Products are widely used
The company's main sales channels are exhibition marketing and network marketing at home and abroad. With the development of the company, its own processing and marketing capabilities have become larger and larger, and its market share has also increased year by year. The JHY brand currently has a strong presence in the industry. Brand influence; for the company's sustainable development, since 2012, the company has planned and purposefully improved the production environment and working environment, and increased employee benefits. At the same time, the company has continuously invested more than 1 million yuan in technology research and development and new equipment each year. , The purpose is to improve production automation, strengthen the company's production strength, maintain the leading product technology, ensure that sales revenue reaches an annual growth of 20~30%, and ensure that the company always walks in the forefront of private enterprises in the same industry.

In view of the current market situation and the future development situation, we will reduce costs, improve efficiency, improve quality, increase the rate of orders, and gradually increase production on a larger scale through centralized procurement and mass sales and supply, and realize short-time and large-volume output. Bulk spot inventory, profit to customers, spot sales to the market, to achieve quick market entry, rapid capital withdrawal, the ability to take orders from large customers and the ability to concentrate on marketing, and finally achieve a virtuous operation cycle between the company and the market .